Cortometrajes 'A 50 años del 68'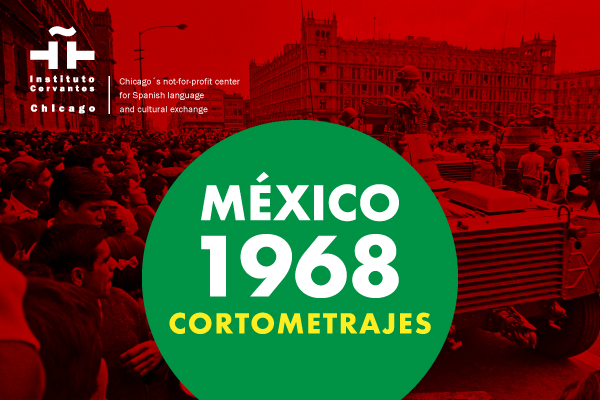 The short films will be available on their own Vimeo channel from September 23 – October 20, 2020. Please visit chicago.cervantes.es to watch the short films.
The year 1968 is crucial for the understanding of our present, in 2018 various activities were developed to commemorate 50 years, among them the six short films with the theme of "50 years of 68 in Mexico City" so that, through its narrative, its characters and / or language, explore this period of our history.
Todos los cortos estarán disponibles en el Canal Vimeo del  23 de septiembre al 20 de octubre, 2020
Fuego Olímpico (11:19 mins)
Director: Ricardo Soto Zavala
Productor: Darío Giordano Ch.
It is October 12, 1968, the inauguration of the "XIX Olympic Games" in Mexico. An olympic athlete makes history by being the first woman to light the "Fire of Peace". Time is running backwards, the athlete relives the "Fire of the innocent student deaths" at the Tlatelolco ì s massacre.
Ricardo Soto (1988) studied film direction at Centro de Capacitación Cinematográfica (Mexico). His works were screened at festivals as Camerimage, Locarno, Huesca, Biarritz, Vladivostok, Sao Paulo, GIFF, FICG, A.O. As director, he has been selected at Berlinale Talents, Filmmakers Academy of Festival del Film Locarno, Talent Demo by Camerimage, MexiCannes 2015 (GIFF in cooperation with Cinéfondation Cannes) and IDFAcademy at IDFA. He has been a three-time grant winner of Conversions by FONCA and received the Artistic Residency Berlin AiR by GIFF.
Es el 12 de octubre de 1968, la inauguración de los XIX Juegos Olímpicos en México. Una atleta olímpica hace historia encendiendo "el fuego de la paz". El tiempo corre hacia atrás, una estudiante porta la antorcha olímpica recordando "el fuego de las muertes de estudiantes", asesinados en la masacre de Tlatelolco.
Ricardo Soto (1988) estudió dirección de cine en el Centro de Capacitación Cinematográfica (México). Ha proyectado en Camerimage, Locarno, Huesca, Biarritz, Vladivostok, Sao Paulo, GIFF, FICG entre otros. Ha sido seleccionado en Berlinale Talents, Filmmakers Academy del Festival del film Locarno, Talent Demo del Camerimage, MexiCannes (GIFF en cooperación con Cinéfondación Cannes) y el IDFAcademy del IDFA. Ha recibido en tres ocasiones al apoyo de Coinversiones de FONCA y recibido la Residencia Artística Berlin AiR del GIFF.
Lazareto  (20 mins)
Director: Gustavo Hernández de Anda
Productora: Iliana Reyes Chávez
In the vicinity of Military Camp 1, a young soldier is forced to interrogate a detained student. His ensuing crisis of conscience is accompanied by memories of the corpses he piled up hours before, following the 1968 Tlatelolco massacre.
Gustavo Hernández de Anda born in Aguascalientes in 1992. He moved to Mexico City after being admitted to the National School of Cinematic Arts (ENAC) of the UNAM, before known as CUEC, from where he graduated with honorable mention in the specialty of directing thanks to his short film Nacido para perder (Born to lose). His story Las sirenas de San Agustín appears in El Libro Blanco de Bengala: Historias de desaparecidos (UANL, 2018). From 2017 through 2018, he was a beneficiary of the National Fund for Culture and Arts (FONCA) Young Artists' grant in screenwriting.
En las inmediaciones del Campo Militar 1, un joven soldado es forzado a interrogar a un estudiante detenido, lo que le provoca una crisis de conciencia acompañada por los recuerdos de los cadáveres que apiló unas horas antes tras la masacre de Tlatelolco de 1968.
Gustavo Hernández de Anda nació en Aguascalientes en 1992. Se mudó a la Ciudad de México tras ingresar a la Escuela Nacional de Artes Cinematográficas (ENAC) de la UNAM, antes CUEC, de donde egresa con mención honorífica en la especialidad de realización gracias a su cortometraje Nacido para perder. Su historia Las sirenas de San Agustín forma parte de El Libro Blanco de Bengala: Historias de desaparecidos (UANL, 2018). Fue beneficiario del programa Jóvenes Creadores del FONCA 2017-2018 en la disciplina de guion cinematográfico.
¿Por qué los matas? (12:26 mins)
Director: Ludovic Bonleux
Productora: Diana Patricia Cobos
50 years later, a former soldier returns to Tlatelolco, where he participated in the massacre of dozens of students.
Ludovic Bonleux (France, 1974) Writer, director and producer. Ludovic Bonleux has directed five documentaries about violence and politics in Mexico. Guerrero (2017) was shown and awarded in various festivals all over the world and received the Diosa de Plata for best documentary from the Association of Mexican cinema critics (PECIME). His short documentary Why kill them? (2018) has been selected to Morelia and Toulouse Film festivals, among others. Ludovic is a grantee from the Sistema Nacional de Creadores de Arte del FONCA (Mexico) and the SUNDANCE Institute (USA). He was also part of BERLINALE Talent 2018 (Germany). He studied a History licence at Bordeaux 3 University and a master in documentary filming at Paris 7 University. IMDb page.
50 años después de los hechos, un exsoldado regresa a Tlatelolco. Mientras recorre la Plaza de las tres culturas, trata de entender el porqué de esta masacre.
Ludovic Bonleux (Francia, 1974) Guionista, director y productor. Ludovic Bonleux ha escrito y realizado cinco documentales sobre violencia y política en México. Su película Guerrero (2017) fue seleccionada y premiada en numerosos festivales mexicanos e internacionales y fue galardonada con la Diosa de Plata a mejor documental por la asociación de periodistas cinematográficos de México (PECIME). Su corto documental ¿Por qué los matas? (2018) ha side seleccionado a los festivales de Morelia y Toulouse entre otros. Ludovic es becario del Sistema Nacional de Creadores de Arte del FONCA (México) y del instituto SUNDANCE (EEUU). Ha sido parte de BERLINALE Talents 2018 (Alemania) y ha cursado la licencia en Historia en la Universidad de Bordeaux 3 así como la maestría en Dirección de Cine documental en la Universidad de Paris 7 (Francia). Página IMDb.
Ganar la Calle (11:59 mins)
Director: Alfonso Díaz Tovar
Productora: Lilian Paola Ovalle
The spirit and memory of the 1968 student uprising in Mexico are captured through testimonies of its participants and the petitions, slogans, signs and graphic materials that were part of the most important legacy of this social movement: Occupy the Street.
Ph. D. Alfonso Díaz Tovar, Mexico City (1979). Documentary filmmaker and social psychologist specializing communities and their practice of memory, traditions and continuity. In his professional work he integrates research and creativity, centering his work on community social practices of remembrance and places of memory in Mexico. His audiovisual work productions include two seasons of the series "Museos Vivos" (Living Museums), 2013-2015; co-director of the experimental documentary "Pie de página" (2014) winner of the 9° Festival Internacional de Cine Documental de la Ciudad de México (DocsDF) for best Mexican short film; co-director of the documentary "Puntos Suspensivos" (2015) winner of the Zanate Award, CONACULTA for the best short film documentary in the 8° Festival de Cine Documental Mexicano Zanate.
Retrata el espíritu y legado del movimiento estudiantil de 1968 a través del testimonio de participantes y de diversos objetos vueltos archivos de memoria. Las asambleas, demandas, consignas, volantes, mantas y materiales gráficos son parte del proceso que derivó en el mayor legado de este movimiento social: ganar las calles de México.
Dr. Alfonso Díaz Tovar, Ciudad de México (1979). Antropólogo visual y psicólogo social, centrado en el estudio de comunidades, sus prácticas de memoria y tradiciones. En su labor profesional integra equilibradamente proyectos de investigación y de creación: sus trabajos se centran en conmemoraciones y lugares de memoria en México. Su producción audiovisual incluye además la dirección de dos temporadas de la serie Museos Vivos (2013-2015), así como diferentes cortos documentales experimentales: "Pie de página", 2014 (Mejor Cortometraje Documental DOCSDF 2014 / Premio FEISAL en el 21° Festival Latinoamericano de Video y Artes Audiovisuales Rosario 2014 / mención especial en el FIC de Bellavista Argentina); "Puntos Suspensivos", 2015 (Premio Zanate CONACULTA 2015 / Primer lugar en XIV Concurso Nacional de Video Experimental 2016.
Fuego en el Sótano (10:12 mins)
Directora: Eva Vázquez de Reoyo evazquezdereoyo.tumblr.com
Interpretado por Samantha Menchaca, Juan Pablo De Santiago, Emiliano Cruz
Dirección de fotografía: Santiago Barreiro
Located in the student movement of '68, the characters connect with each other through politics and the need to claim their own vital and ideological space in a repressive and violent context. Fuego en el sótano is a political short that talks about love: love for others, love for ideas and love for freedom.
Eva Vázquez de Reoyo is a filmmaker working in commercials, music videos and fiction. She was born in Madrid. Her mother is a painter and her father a puppeteer.
She studied film direction at LCP in London and animation at the Arts Institute in Bournemouth. Her final year film has been awarded in numerous festivals and has been screened at the Lincoln Center in New York.
Her last short Fire in the Basement shot in Mexico City was awarded best Mexican film and shown in many major film festivals around the world. She worked for clients such as IKEA, REPLAY, United Nations, among others. Her style is characterized for an obsession with detail and a distinctive and personal touch based on a meticulous art direction and photography. In her stories realism is mixed with fantasy and the exceptional happens within the everyday.
Situado en el movimiento estudiantil del 68, los personajes conectan entre sí a través de la política y de la necesidad de reclamar un espacio vital e ideológico propio en un contexto represor y violento. Fuego en el sótano es un corto político que habla sobre amor: amor por los otros, amor por las ideas y amor por la libertad.
Eva Vázquez de Reoyo es cineasta fotógrafa y realizadora de publicidad. Trabaja en comerciales, vídeos musicales y películas de ficción. Nació en Madrid. Su madre es pintora y su padre titiritero.
Estudió dirección de cine en LCP en Londres y animación en el Arts Institute de Bournemouth. Su última película ha sido premiada en numerosos festivales y se ha proyectado en el Lincoln Center de Nueva York.
Su último cortometraje, Fuego en el sótano, filmado en la Ciudad de México, fue galardonado como mejor película mexicana y se mostró en numerosos festivales de cine de todo el mundo. Trabajó para clientes como IKEA, REPLAY, Naciones Unidas, entre otros. Su estilo se caracteriza por su obsesión por el detalle y un toque distintivo y personal basado en una meticulosa dirección de arte y fotografía. En sus historias, el realismo se mezcla con la fantasía y lo excepcional ocurre dentro de lo cotidiano.
Round table with the directors. Short Films 'A 50 años del 68'
Encuentro con los directores. Cortometrajes 'A 50 años del 68'
Thursday, October 1, 6 pm (CT)Place: Zoom 
Meeting ID: 950 7652 4794
Welcome: Anastasio Sánchez, Director, Instituto Cervantes of Chicago.
Opening Remarks & Introductory Statement: Paula de Gortari, Director, UNAM Los Ángeles.
Topic Discussion: Ricardo Soto Zavala, Gustavo Hernández de Anda, Ludovic  Bonleux, Alfonso Díaz Tovar and Eva Vázquez de Reoyo.
Moderator & Closing Remarks: Eduardo Herrera, Filmmaker.
In Spanish
In 1968, when the first Olympic Games were held in Mexico, which was also the first in a Latin American country, a student movement demanding dialogue with the government was brutally repressed, culminating in the Tlatelolco massacre at the hands of the army. In 2018, to commemorate the 50 years of these events, various activities were developed. One of them was the production of six short films with the theme: "50 years of 68 in Mexico City." The shorts were supported by la Secretaría de Cultura de la Ciudad de México, through the Fideicomiso for the Promoción y Desarrollo del Cine Mexicano in the Distrito Federal (PROCINEDF), and made by young filmmakers, who, with total freedom of narrative — some within the fiction, others from the documentary — created these cinematographic pieces with the intention of projecting new light on those dramatic events in Mexican history.
En 1968, cuando en México se realizaban los primeros Juegos Olímpicos en un país latinoamericano, un movimiento estudiantil que reclamaba el diálogo con el gobierno fue brutalmente reprimido, culminando con la masacre de Tlatelolco a manos del ejército.
En 2018 para conmemorar los 50 años de esos acontecimientos se desarrollaron diversas actividades, una de ellas fue la producción de seis cortometrajes con la temática: "50 años del 68 en la Ciudad de México". Los cortos fueron apoyados por La Secretaría de Cultura de la Ciudad de México, a través del Fideicomiso para la Promoción y Desarrollo del Cine Mexicano en el Distrito Federal (PROCINEDF) y realizados por jóvenes cineastas, quienes con total libertad narrativa -algunos dentro de la ficción, otros desde el documental- crearon estas piezas cinematográficas, con la intención de proyectar nueva luz sobre esos dramáticos sucesos de la historia mexicana.
Eduardo Herrera Fernández
Filmmaker
Filmmaker Eduardo Herrera Fernández was born Mexico City and studied Social Anthropology and Graphic and Industrial Design at the Universidad Autónoma Metropolitana (UAM) as well as the Centro de Capacitación Cinematográfica (CCC) where he graduated as a Cinematographic Director. He has made several documentary films about history, archeology, plastic arts, nature, endangered species, travel and adventure. In addition, he has worked in Mexican cinema, directing 13 seasons of the TV series "Cine-secuencias TV", produced by the Mexican Institute of Cinematography (IMCINE), about current Mexican and Iberoamerican cinematography in Mexico.
Paula de Gortari 
Director, UNAM Los Ángeles  
Paula de Gortari graduated in Industrial Engineering from UNAM. She was awarded the Gabino Barreda medal and received an Honorable Mention. She has studied numerous graduate and specialty courses, including the Diploma in Project Evaluation and Management at the University of California at Irvine. She has held various management positions both in Mexico and in the United States. She collaborated in the National Council of Science and Technology (CONACYT) and in various institutions such as Bancomext, APPI Corporation and The Learning Trust. She worked at UNAM San Antonio for four years, being in charge of organizing cultural activities and the academic extension. She is currently the director of UNAM Los Ángeles since 2014.
Eduardo Herrera Fernández
Realizador Cinematográfico
Originario de la Ciudad de México, cursó estudios en Antropología Social y Diseño Gráfico e Industrial en la Universidad Autónoma Metropolitana (UAM). Egresado del Centro de Capacitación Cinematográfica (CCC) como director cinematográfico. Ha sido realizador de numerosos documentales sobre historia, arqueología, artistas plásticos, naturaleza, especies en peligro, viajes y aventuras, y cine mexicano. Ha sido el director de 13 temporadas de la serie "Cine-secuencias TV", producida por el Instituto Mexicano de Cinematografía (IMCINE), sobre la actualidad del cine mexicano e iberoamericano en México.
Paula de Gortari
Directora, UNAM Los Ángeles
Paula de Gortari se graduó en Ingeniería Industrial por la UNAM. Fue galardonada con la medalla Gabino Barreda y se tituló con Mención Honorífica. Ha estudiado numerosos diplomados y cursos de especialización, entre ellos el diplomado en Evaluación y Administración de Proyectos en la Universidad de California en Irvine. Ha desempeñado diversos cargos directivos tanto en México como en Estados Unidos. Colaboró en el Consejo Nacional de Ciencia y Tecnología (CONACYT) y en diversas instituciones tales como Bancomext, APPI Corporation y The Learning Trust. Se desempeñó exitosamente en la UNAM San Antonio a lo largo de cuatro años estando a cargo de la organización de las actividades culturales y de extensión académica. Actualmente es directora de la UNAM LOS ÁNGELES desde 2014.
Organized by the Instituto Cervantes of Chicago in collaboration with UNAM Chicago, Instituto Cervantes of New York, Instituto Cervantes of Albuquerque, Aula Cervantes of Seattle, Aula Cervantes Calgary, Observatorio de la lengua española y las culturas hispánicas en los Estados Unidos, UNAM Los Angeles, UNAM Ottawa, Consulate G. of Mexico of Chicago, Consulate G. of Mexico of Los Angeles, Chicago Latino Film Festival, The University of Loyola in Chicago, the Museo de Arte Contemporáneo MUAC-UNAM, and Lit & Luz Festival.

This program is part of the Tribute to the 1968 student movement in Mexico: The Tlatelolco Massacre, organized and curated by Teresa Hernando, Cultural Program Coordinator of the Instituto Cervantes of Chicago, with the support of Eva Vidal and Isabel Machado, communication and marketing department, respectively. And with the additional support from Anastasio Sánchez, Director, Instituto Cervantes of Chicago; Javier Laguna, Director, UNAM Chicago; Erika Erdely, Academic Coordinator, UNAM Chicago; Paula de Gortari, Director, UNAM Los Ángeles; Alicia Mayer, Director, UNAM Ottawa; Reyna Torres, Consul G. of México in Chicago; Marcela Celorio, Consul G. of México in Los Ángeles; Fabiola García, Consul for Cooperation, Consulate G. of México in Los Ángeles; Claudia Castillo, Office Coordinator and Assistant to the Consul G. of Mexico in Chicago; Lisa Shames, Copy Editor; Pepe Vargas, Founder & Executive Director at International Latino Cultural Center of Chicago; Héctor García, Director, Latin American and Latinx Studies Program, Loyola University; Amanda de la Garza, Director, MUAC UNAM, Fernanda Dichi, Elva Peniche Ekaterina Álvarez, MUAC UNAM; Sarah Dodson, Director, MAKE Literary Productions, NFP; and Brenda Durán, Pirexia Films. Without you, this wouldn't be possible.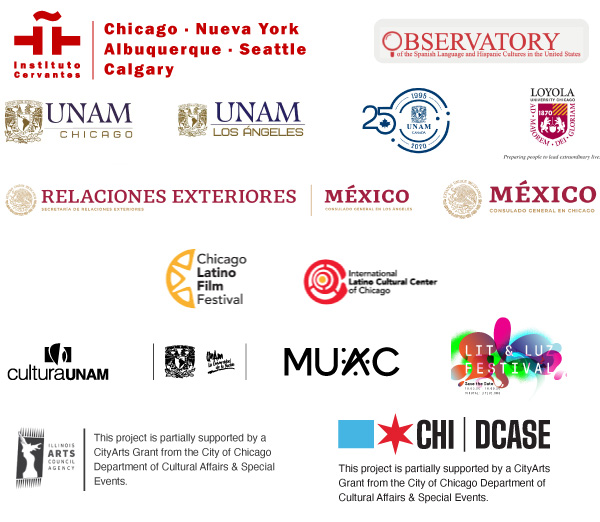 Deja tu comentario
Comentarios